Eggplant – Patio Baby Mini Eggplant
This is the story of my first Patio Baby Mini Eggplant.
Plant specs:
Plant Size: 10 to 24 inches tall
Fruit Size: 2″ – 3″ tall
Matures: 45 days
Spacing: 24 inches apart
Light: Full sun
Special Characteristics:
I wanted an eggplant for the pretty purple flowers 🙂 I chose the Patio Baby Mini Eggplant because of the "never bitter" claim. Turns out some eggplants get bitter if you don't pick them as soon as they start to get ripe. With these, I should be able to check once or twice a week for fruit.
May 4: First Bloom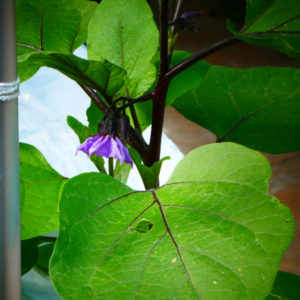 I planted eggplant, cherry tomatoes, squash, zucchini, and cucumbers on April 17, 2017. About 2 1/2 weeks later, I saw my first beautiful purple eggplant bloom.
May 12? : Pretty Flowers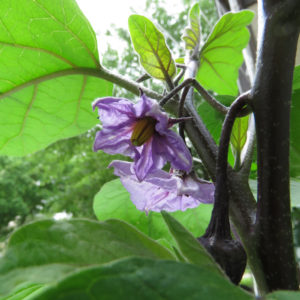 It has been almost a month since I planted. I am seeing more lovely purple flowers with vivid yellow centers. So pretty. I am still waiting on the fruit!
May 19: Looks Good!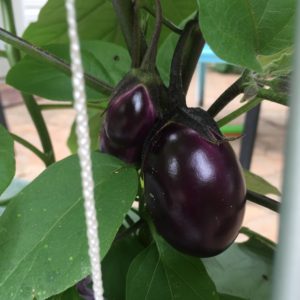 It has been a little over a month and my first eggplant looks about ready to pick!
May 29: Pretty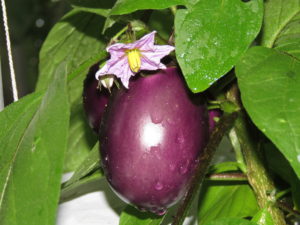 What luck! Our first eggplant is ready to pick on the same day that we are Cooking out on the grill for Memorial Day.
June 3, 2017: Looks like we will have even more to grill next weekend!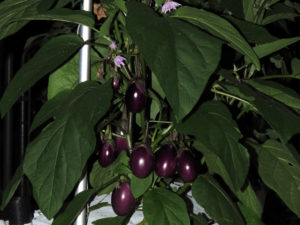 Wow, looks like these patio babies really do produce a lot of eggplants!
Recipe Ideas:
Yummy, eggplant Parmesan!