Pepper – Islander Bell Sweet Pepper
This is the story of my first Islander Bell Pepper.
Plant Specs:
Plant Size: 24″ – 36″ tall
Fruit Size: 4″ long
Matures: 56 days after planting
Spacing: 18″ – 24″ apart
Light: Full Sun
Special Characteristics:
I chose this plant for its pretty purple fruit. 🙂 It will be lavender or purple when ready to pick. The Bonnie website says that if you leave it on the vine long enough, it will continue to get sweeter and ripen into a very dark red color. Other websites say that picking it at this purple stage will lead to more pepper production, and they will still continue to ripen into sweeter red peppers after picked.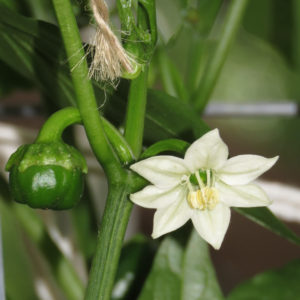 After a very mild winter, I decided to plant my first Islander Bell Pepper in mid-February 2017. I planted it along with a Bush Goliath tomato and a Sweet Yellow bell pepper. This was the slowest to grow and between cold nights and a hail storm, it dropped many flowers in the first couple of months.
Three months after planting, my peppers are finally looking like they are going to make it! I just hope the plant can handle all the little buds I see ready to bloom. My biggest pepper is a little over an inch tall, but on the skinny side. I assume it will fill out with time.