Tomato – Bush Goliath, Hybrid Tomato Determinite
This is the story of my first Bush Goliath Hybrid Tomato
Plant Specs
Plant Size: 36″ – 42″
Fruit size: 3″ – 4″, 6-8 oz
Matures: 68 days after planting
Spacing: 24 to 36 inches
Light: Full sun
Plant type: Determinate
Special Characteristics:
This hybrid tomato is supposed to have all of the characteristics I was looking for: compact size is great for containers, large delicious fruit, long harvest season.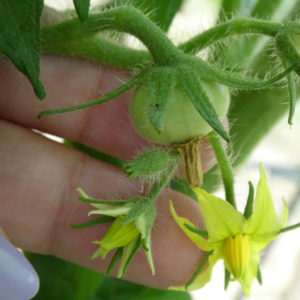 I planted my Bush Goliath in an Earthbox along with 2 Bell Peppers in mid-February. I live in East Texas in Zone 8. We had an unusually mild winter. Despite the knowledge that we sometimes have a late frost in April I couldn't resist planting early!
2 months later I have a couple of small fruits and my plant is a little over 2 ft high and very bushy. I have had to prune it back a couple of times because it is taking over one of my peppers.