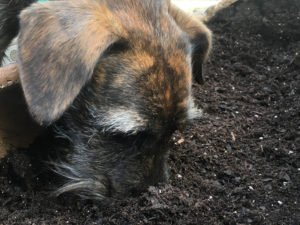 Welcome. This page is a running list of the various plants I am growing in my yard. I will link to pages on how to care for each as I learn. At the bottom of the page I will list my unidentified plants for anybody who wants to help me to figure out what was left by previous owners.
Edibles
Eggplant – Mini Eggplant, Patio Baby
Tomato – Husky Cherry Red, Hybrid Cherry Tomato (Damaged by a hard gust of wind.)
Tomato – Super Sweet 100 Hybrid
Tomato – Bush Goliath, Hybrid Tomato Determinite
Tomato – Tumbling Tom (red)
Tomato – Red Robin
Pepper – Yellow Bell, Sweet Pepper (Didn't grow as fast as surrounding plants. Too much shade, never produced much.)
Pepper – Islander Bell, Sweet Pepper (Purple!)
Pepper – Hot Pepper Poinsettia
Pepper – Sweet Banana Pepper
Cucumber – Cucumber, Burpless Hybrid
Cucumber – Boston Pickling
Spinach – Bloomdale, Long Standing
Squash – Crookneck, Heirloom Squash
Squash – Zucchini Squash, Heirloom Black Beauty
Blackberry – Thornless Blackberry
Strawberries – Pineberry (Didn't survive. I think the bare root plants were unhealthy.)
Honeydew
Watermelon – Crimson Sweet
Watermelon – Sugar Baby
Peas – Sugar Snap Peas
Mint
Lavender
Pretty
Mandevilla – planted with marigolds
Succulents –
Hyacinth
Columbine
Oyster Plant
Caladiums
Coleus – Stained Glassworks Trailing Monarch
Coleus – Kong Coleus
Impatients – Harmony Deep Red New Guinea Impatients
Azalea
Four O'Clocks Cottage Garden Mix
Sweet Potato Vine (Ornamental)
Wish List
Asparagus Fern
Oleander
My Tools
Earthbox
Flower Pots
Gnomes
Unidentified
There were a lot of neat plants when I moved here. I still haven't identified these:
Squiggle Grass? What's it called?