Eggplant – Patio Baby Mini Eggplant
This is the story of my first Patio Baby Mini Eggplant.
Plant specs:
Plant Size: 10 to 24 inches tall
Fruit Size: 2″ – 3″ tall
Matures: 45 days
Spacing: 24 inches apart
Light: Full sun
Special Characteristics:
I wanted an eggplant for the pretty purple flowers 🙂 I chose the Patio Baby Mini Eggplant because of the "never bitter" claim. Turns out some eggplants get bitter if you don't pick them as soon as they start to get ripe. With these, I should be able to check once or twice a week for fruit.
May 4: First Bloom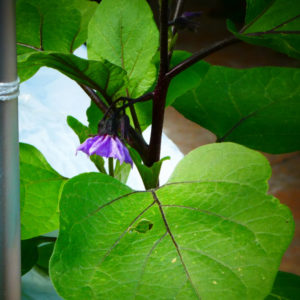 I planted eggplant, cherry tomatoes, squash, zucchini, and cucumbers on April 17, 2017. About 2 1/2 weeks later, I saw my first beautiful purple eggplant bloom.
May 12? : Pretty Flowers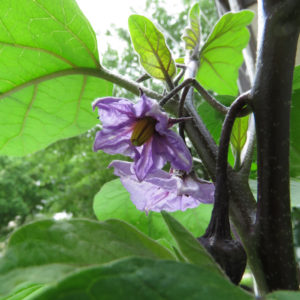 It has been almost a month since I planted. I am seeing more lovely purple flowers with vivid yellow centers. So pretty. I am still waiting on the fruit!
May 19: Looks Good!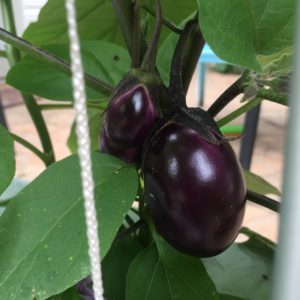 It has been a little over a month and my first eggplant looks about ready to pick!
May 29: Pretty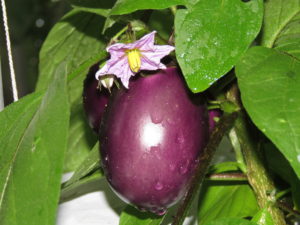 What luck! Our first eggplant is ready to pick on the same day that we are Cooking out on the grill for Memorial Day.
June 3, 2017: Looks like we will have even more to grill next weekend!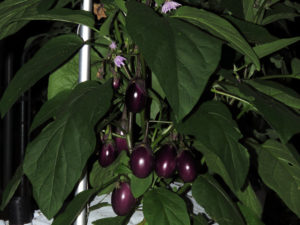 Wow, looks like these patio babies really do produce a lot of eggplants!
September 8, 2017: Wrapping up the season.
The Patio Baby Mini Eggplant was my best performing plant of the year! I got 4 good pickings over the course of 3 months. But last week's crop had several blemishes and didn't grow as big as the earlier ones. I am not sure if it needed more fertilizer, if it was too infested with leaf-eating bugs, or if the cooler weather got to it. I considered pruning off the bad leaves and adding fertilizer, but I recently moved strawberries to this container and I think the eggplant is giving too much shade.
Either way, this plant exceeded my expectations. I will probably try another variety next year, but I will for sure plant this one again when I have enough containers!
Recipe Ideas:
This eggplant makes me think of squash. It is not sweet (in fact, the last batch I picked was a little bitter) and the seeds are firmer. But if I had to compare these cooked eggplants to another vegetable, summer squash is the closest thing I can think of. The pretty purple does turn into more of a gray. So don't count on this plant for a pretty pop of color. Still, it is good. Here are some recipes I want to remember to make with eggplant in future years:
Yummy, Eggplant Parmesan Bites! – My daughter and I love eggplant Parmesan! But I rarely make fried food. Hoping to find a good oven-baked eggplant Parmesan recipe to make at home. The tiny size should make them a perfect finger food for friends to try.
Ratatouille (I made this twice this summer – can't wait to make it again next summer!)
Grilled Eggplant – I will let you know when I come up with a good grilled eggplant recipe. We just added butter, salt, and pepper last time. It was OK but I do think this is a vegetable that could benefit from further seasoning.