I just had a very nice 28th birthday
… I hope there are many more good birthdays to come!
It started out as a normal day. My daughter went to school, my boyfriend went to work, and I played hooky from work. (Don't get me wrong. I love my job! But I have been having pain management problems lately. … anyhow …)
My daughter whispered some secret to my boyfriend before they went their separate ways. She wanted him to pick her up early so they could work on a birthday surprise for me. It turned out to be the best home-made card I ever received!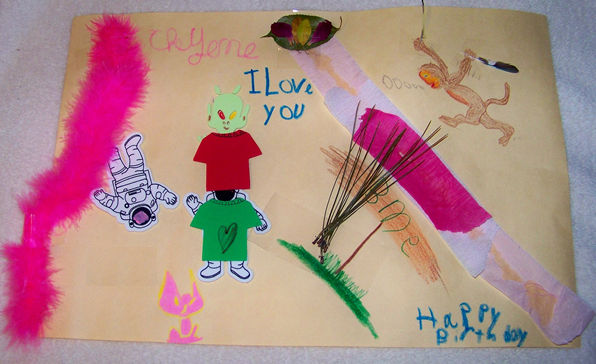 Isn't it beautiful? Almost everything on it reminds me of something I love about my family! From the feather boa we use to use while playing dress-up, to the real parakeet feathers being waved around by the monkey. I couldn't imagine a better card to sum up our life!
Mmm… Sushi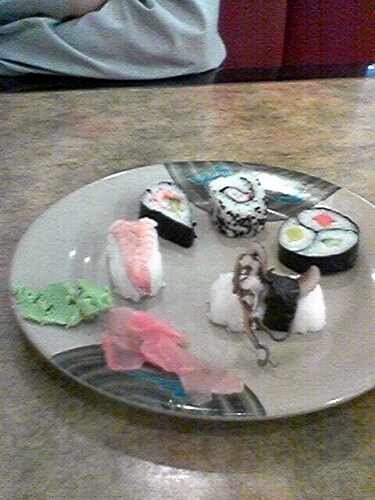 We also went to China King in Tyler, TX for dinner where my boyfriend fixed a plate of stuff to try from the sushi bar. The little octopus/squid sushi thing was so good!
My daughter tried a bit of the shrimp and rice sushi and she had her first taste of an oyster. She didn't like either of them. Maybe she can enjoy sushi with me in a few years
For now, her idea of a good trip to a Chinese food place mainly consists of fruit salad, the least mysterious looking piece of chicken we can find, and a small clump of rice. Still pretty yummy
Birthday cake … May my wish come true!
We finished the day with a birthday cake. I wanted to get a picture of how much 28 small candles lit up our apartment, but the batteries were down in my camera. I am happy to announce that I blew them all out in one breath and am waiting to see if my wish comes true.