Bright Lights Swiss Chard
This year we are going to try growing some Bright Lights Swiss Chard, a colorful and highly nutritious leafy vegetable.
Plant specs:
Plant Size: 8 to 24 inches tall, 8 to 20 inches wide
Matures: 60 days
Spacing: 12 – 24 inches apart
Light: Full sun with some shade in the hot part of the day
Growing Conditions:
Started plants, purchased from a local nursery (about 4-6″ tall)
Zone 8, East Texas
Planted March 15, 2021
New Raised Garden Bed
Why Bright Lights Swiss Chard:
My daughter chose Bright Lights Swiss Chard to add healthy variety to her bearded dragon's diet. It sounded like a fun way to add some color to our garden and for our whole family to try something new! (Except Kitty Max … Cats should not eat Swiss Chard.)
There is a wide variety of information on Bright Lights Swiss Chard's size and growing requirements, plus several different suggestions on when and how to pick and prepare it. It will be interesting to see how it performs in my garden and which ways we prefer to eat it.
April 15, 2021 Update: It's growing! But not as delicious as we hoped.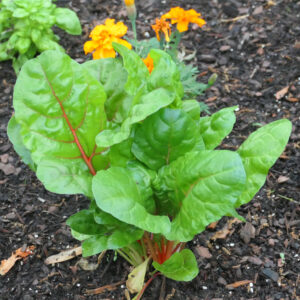 I picked a few smallish leaves from our Bright Lights Swiss Chard to try raw. Dagger the Bearded Dragon did not like it. I didn't like it. My daughter wouldn't taste it. The dog ate it, but I'm not sure if she liked it either. We will try again in a few weeks to see if warmer weather helps with the flavor or if we prefer the bigger leaves. Either way, I look forward to seeing how it changes as it grows!