I finally got a new mattress! (Idle Hybrid Review)
I have been sleeping on the mattress that came with my house for almost five years now. It was a nice mattress, but it has officially reached the point of needing to be replaced. I apologize in advance if this post sounds like an advertisement. I'm just so glad that I am happy with my new mattress! (This post does contain affiliate links. I may earn a commission on purchases made through these links.)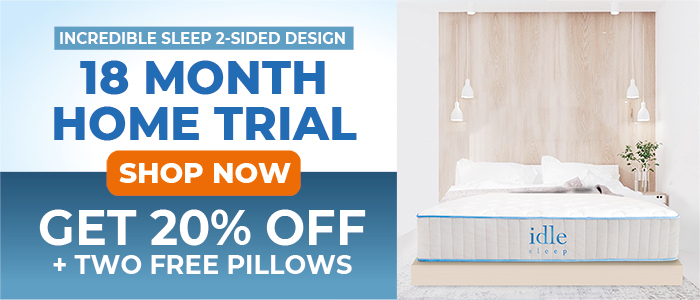 After months of research, I chose to go with the Idle Hybrid. Why?
It's a hybrid: Hybrid beds combine the benefits of memory foam and an innerspring system. Sounds like a great concept! I look forward to seeing if it meets my expectations.
It's flippable: It has been years since I saw a decent flippable mattress in the store.
Firmness options: This one really caught my attention. You can choose medium, firm, or both! (both = medium on one side, luxury firm on the other side)
18-month trial: An insane offer on their part. But I love the idea of having over a year to #1, make sure the mattress holds up over time and #2, make sure that it remains comfortable through all four seasons.
60-month financing: If approved, you can get 60 months of no-interest financing from synchrony home. I am paying less than $1 per day for better sleep.
Delivery & Unboxing
Idle called the day after I placed my order to make sure the ordering process went smoothly and answer any questions. It took about 11 days from when I ordered until the mattress was at my door. Idle did not inform me when the mattress shipped but I did get a notification from FedEx Delivery Manager.
The box was smaller than expected, but it weighed over 115 pounds. I called a friend over to help set it up. The mattress had been folded in half and rolled up before they stuck it in the box. It made a fun suction sound as it tried to expand before we finished removing the plastic cover. Once the cover was removed, we realized that this mattress is nowhere near as stiff/slick as my old one. It was hard to scoot it over those last few inches to line up with my box spring. … I hope that also means it will stay in place better than my old mattress.
There was an odor, but it wasn't as strong as I expected. Instructions say to wait a couple of hours before you add a mattress cover or sheets. So I turned on the ceiling fan and left the room while my bed aired out.
Trying my new mattress
UnfairMom: My first thought as I put some weight on the bed was "On no, this is way too soft." Once I was all the way on, there was actually a nice amount of support. The soft layers made it more difficult to scoot and make small adjustments, but it was so comfortable that I didn't really need to. (It was easy enough to readjust in the middle of the night after I got used to it.)
Dog: Next up, I called my dog to inspect the new mattress. She is not pleased with my decision to replace our old mattress. The sides are ok, but it has a lot of give if you sit at the foot of the bed. She may have disliked the smell or thought it wasn't sturdy enough. (I ended up putting her doggy bed near my feet and she spent half the night with me.)
Kid: Third, I invited my daughter to try out the new mattress. I plan to get her one if she likes it. She was also surprised by the initial softness as she "melted" into the bed. She still hasn't told me if she finds it comfortable. But it couldn't have been too bad since she wanted to lay down again before bed.
Cat: The cat showed zero interest in checking out my new mattress. He was too busy staking a hair tie.
First night's sleep
Side Sleeping: I was surprised how comfortable it was to sleep on my side. My shoulders usually get so sore. But that thick soft/fluffy layer that weirded me out at first? It made the side sleeping AMAZING!! And the included shredded memory foam pillows were the perfect thickness.
Back Sleeping: I like to sleep on my back. With my old mattress, I often had to use extra blankets or pillows to get comfortable. But Idle had near-perfect amounts of softness and support. 
Temperature: It is summer in Texas. I try to keep my house between 76 and 78 degrees this time of year. A couple of hours into the night, I noticed that this mattress felt warm but not hot. I turned the a/c down one degree and slept good the rest of the night.
Free Pillows!
I wanted to contact Idle and tell them to keep their pillows. I have plenty and a memory foam pillow just sounds weird! But my review would be incomplete without the pillows. And I could always give them away if I didn't like them.
Style: I have seen different pillows on different IdleSleep Mattress reviews. What I got was shredded memory foam zipped into a bamboo cover. (No, it was not encased in splinters and wood. Best I can tell, bamboo is a brand of hypoallergenic pillow covers. I like it!) It was surprisingly heavy compared to the pillows I have been using.
Smell: The smell took much longer to air out of shredded memory foam pillows than the mattress.
Thickness & Firmness: Once expanded,  one pillow was the perfect thickness and firmness for me for side sleeping! I liked how well it contoured around my shoulder and neck. … It was too thick for back sleeping. I read that you can take out some of the filling for a thinner pillow.
Get Yours
I found this 20% off banner on Idle's affiliate program! There weren't any dates. Let me know if it doesn't work.