Frittatas are a convenient, yummy, and budget-friendly breakfast. These muffins are too much work to make just one or two on-demand. But they are excellent if you want to make a batch of something versatile to serve throughout the week.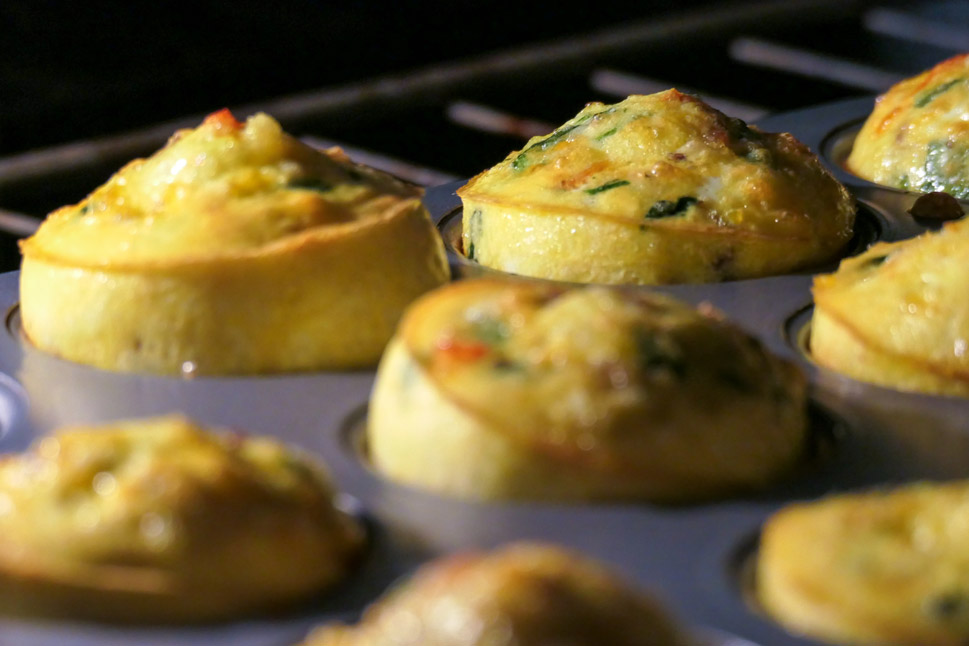 My Go-To Frittata Muffin Recipe
Ingredients: (Makes 24 frittata muffins, about 120 calories each)
18 Extra Large Eggs (room temperature preferred)
1/2 lb Ground Pork Sausage (I like Owens Regular sausage)
1 Bell Pepper, diced (I prefer red)
1 Onion, diced (I prefer mild ones)
1/2 cup shredded cheese (I prefer 1/4 cup mozzarella, 1/4 cup cheddar)
1/8 tsp salt
1/4 tsp black pepper
Butter, margarine, or olive oil (about 2 tbsp, enough to sauté vegetables)
Cooking spray or additional butter or olive oil to grease the muffin pan
Directions:
Preheat oven to 350 degrees
Brown and crumble the pork sausage.
Drain and set aside to cool.
Sauté vegetables and butter/oil over medium-high heat until tender or starting to brown.
Drain and set aside to cool.
Spray muffin tin.
Crack eggs and mix with salt and pepper. (Doesn't have to be perfectly smooth, but do make sure to break up all the yolks and whites.)
Divide eggs evenly between the muffin cups.
These will rise when you bake them. – Don't fill much more than half-way with egg mixture.
Mix together sausage, vegetables, and cheese.
Drop sausage, vegetable, and cheese mixture into each muffin cup.
Bake at 350 degrees for 20 minutes.
Remove from oven and let cook for 5-10 minutes before serving.
Serving Suggestions
In addition to only costing 17-35 cents per frittata muffin (depending on current sales), I love how easy it is to pull these out of the fridge and pop them in the microwave to incorporate into different meals throughout the week.
Slice in half and place in bread for a flavorful egg sandwich.
Crumble and put in a warm flour tortilla for breakfast burritos.
Or just warm it up and eat as-is or with salsa for an easy snack.
Alterations
These taste great and become even more economical when I only use half of the sausage, vegetables, and cheese. The extra pre-cooked toppings are a good addition to burritos and pasta.
I have also made frittata muffins with just egg and a small pinches of Hormel Bacon Crumbles and cheddar cheese for picky eaters.
My daughter is eager to make a batch with bacon, Feta cheese, and spinach. (We will throw fresh chopped spinach in with the veggies right at the end of their sauté time.)
I am eager to skip the sausage and add sundried tomatoes, spinach, and Italian seasoning! Let's see how many veggies these babies can hold before they fall apart!