How do you get a group of 6 year olds to sit still? — I have no idea!
For my daughter's six year old birthday party, I rounded up some supervising adults and let the children have at it with swords and magic wands to slay and poof away the dreaded Bubbles of Clean!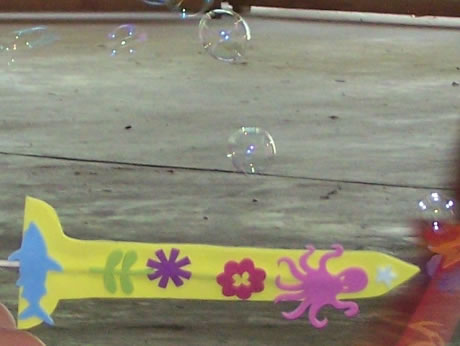 Sword Materials:
1/4 or 1/3 inch wooden dowels (strong enough to support a sword fight)
foam sheets
foam markers, stickers, and other decorative items of your choice
quick drying foam safe craft glue
scissors
Sword preparation
In the days before the party, prepare a pattern and cut out several sword shaped pieces of foam.Glue a wooden dowel down the middle of each set of two foam pieces for support. – Make sure the foam overlaps the front and sides of the dowel for a soft border.
It may be a little tricky to line up the foam pieces just right. – Use scissors to trim off any drastically uneven edges after the glue has dried. You can leave the wooden handle sticking out, or you can cover it in foam too.
Wand materials
1/8 inch wooden dowels
assortment of plastic beads with holes of 1/8 inch or slightly bigger
larger wooden beads with holes close to 1/8 inch
quick drying wood glue
feathers and/or other soft objects to top the wands
Wand Preparation
In the days before the party, prepare wands by gluing larger wooden beads at one end of each dowel. This will keep the smaller beads from slipping off as the kids add more.
You can also prepare wand toppers by gluing soft objects, such as feathers, foam cutouts, or pompoms, to the other large wooden beads. – Be sure to leave the hole at least partially empty so that you can insert & glue the other end of the dowels into it AFTER the kids have added their beads.
Party Time!
Let each child choose a sword or a wand. Don't be surprised if they want to do one of each. We even had some kids ask if they could make more for their parents and siblings.
Sword makers can use stickers, markers, and crayons to personalize their creation. Once they are finished, put the sword on the drying table for display. (Drying time may not be required if nobody is making wands – but it does give the glue in stickers a chance to set and give marker a chance to dry.)
Let wand makers add beads to their wands. … For my daughter's birthday, we had an assortment of letter beads, bunnies, stars, flowers, and regular beads.
After the wands are properly beaded, glue on a soft topper and set aside to dry.
It is a good idea to have a short game for the kids to play while their crafts dry. … Pin the tale on the donkey anybody?
Once everything has dried, remind the kids how to be safe with their wands and swords. Give them their masterpieces and turn on a bubble blower. Challenge them to pop as many bubbles as they can!
Tips
Thicker dowels make stronger swords. … But they also pack more potential for injury. Only one kid broke the 1/4 inch wooden dowels we selected.
This game can easily get out of hand. Make sure to have adequate adult supervision on hand! I asked parents to stay and supervise their own kids.
If you cannot find a 1/8 inch wooden dowel, try using nail clippers and a file to remove the pointy end from some bamboo skewers.
We got our bubble blower from the WalMart for $25. I can usually find more colorful ones in the toy section for about $10, but since I waited until last-minute, they were sold out and I had to get what I could find.